Dutchsprouts Soilscanner
Instant, on-the-spot monitoring of nutrients
Soil scanner for small farmers in Africa, The Soilscanner creates fertile ground for developing countries and results in a simple, smart and connected way to analyse your crops, raw materials and soil.
Category
Professional work
Project outline
The Dutchsprouts soilscanner was developed during my time at Scope design in collaboration with Frits Oukes. At scope we developed the overall design concept as well as the patented Near Infra Red light source inside the scanner that produces the scan.
My responsibilities were the development of the Near Infra Red light source, engineering, prototyping and overall support in the design process. Close collaboration with Ricardo Verheul who was design lead.

Challenge
The worldwide population is increasing and food production has to double to keep up with the growing demand. As much as 60% of crop yields depend on soil fertility. If farmers had easy, affordable and reliable access to information about their soil fertility status, they will increase their yields and participate in bridging the world food gap.
But farmers in developing countries often lack knowledge about the precious soil in which they grow their crops. The SoilCares soil scanner provides them with that crucial information anytime and anywhere. "It can help improve crop yields by up to 50 percent."

Result
The scanner is used to enable farmers in Africa and other developing countries, to increase their crop yield by receiving, through the Soilscanner and the App, instant advise on how to fertilize their farmland and which type of crop can best be grown
Scope designed and produced the first 15 functional prototypes that Soilcares used to test in Kenia.
Lumen
Embrace the sun in your shower
Inspired by the sunrise, Mora Lumen uses a unique combination of light therapy and hydrotherapy to wake you up and revitalise your body in a natural way.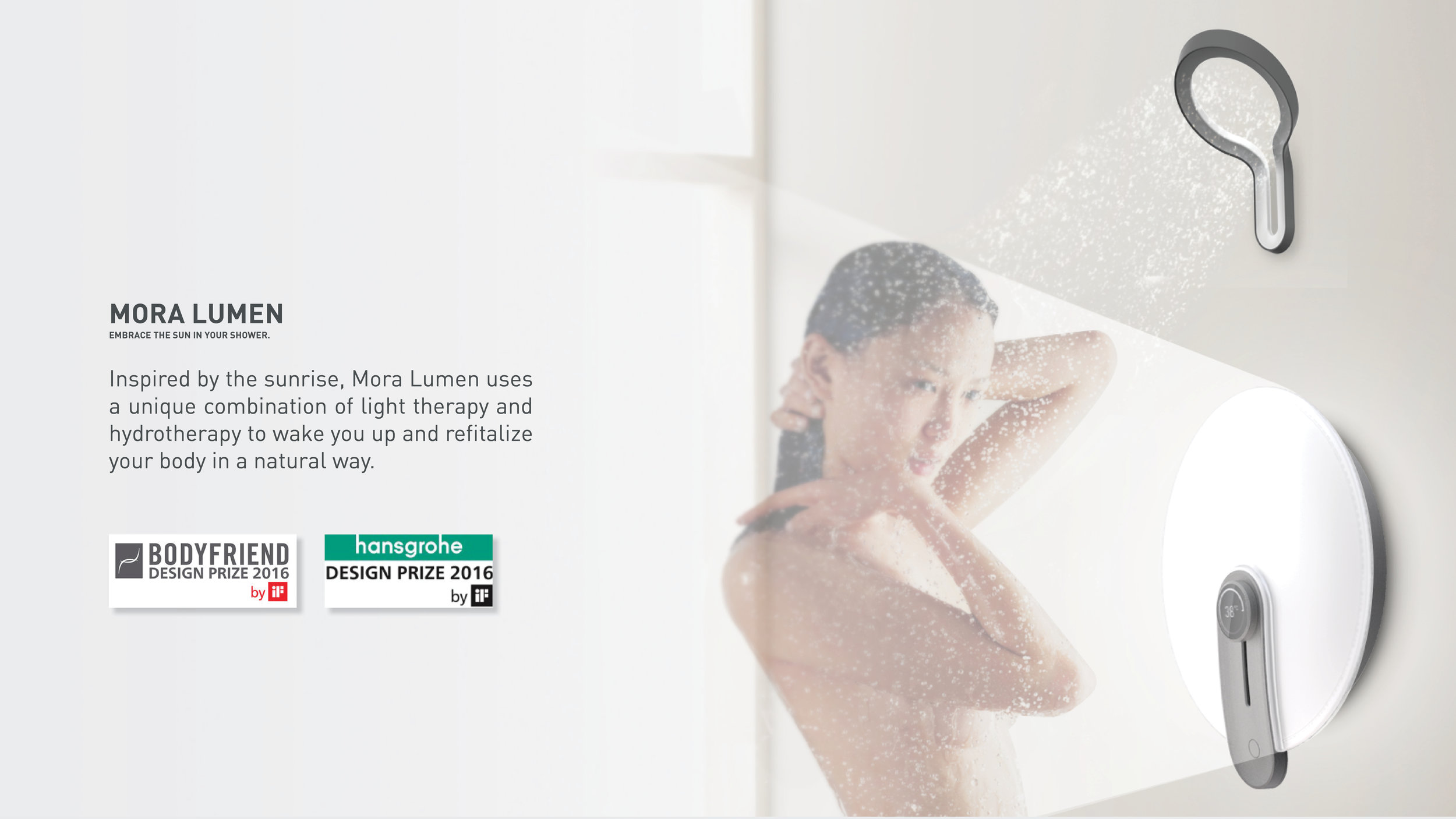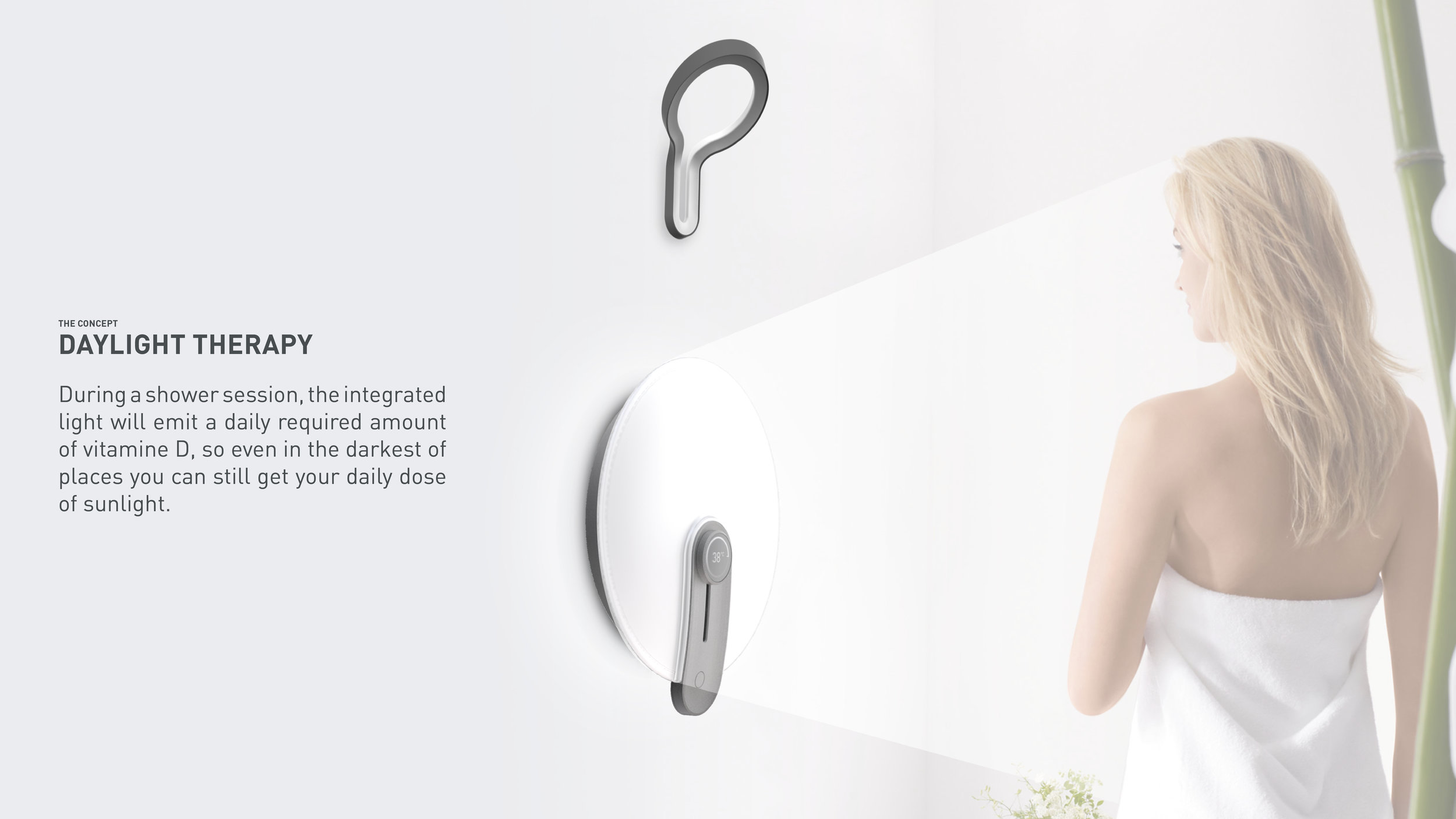 Project outline
Lumen is the result of a 3 week project at the Umeå institute of Design, done in collaboration with Mora.
My personal goal in this project was to further develop user shadowing methods, organising workshops, design research, storytelling, and model making.

Challenge
The challenge we received during this project was to explore the future of the digital bathroom. Nowadays with our daily lives getting more and more busy people are searching for a place where they can relax and unwind in their home. One of the downsides of this hectic lifestyle is that we spend much of our time inside and don't get our daily (required) dose of sunlight, which leads to a lot of health problems in the long run.

Result
LUMEN is a shower concept inspired by the rising sun. Sunshine and natural light are essential for our wellbeing. The lamp that is integrated in the Lumen shower emits rays of light that activate vitamin D production, just like daylight. This helps users to stay fit, healthy and energized.

Leba Chair
The chair that adjusts istelf to the seating position of the user, whilst still giving maximum support.
Project outline
The Leba chair is a personal project made in the year 2014 for the Dutch Originals competition in collaboration with the furniture company Gispen.
My personal goal in this project was to further develop my skills in sketching, Cad modelling, CMF studies, design research, brand identity, and model making.
Challenge
The challenge for this project was to create a new seating concept that would adapt intuitively to the users desired seating position. From an active seating position, to a 'relaxing' lean back position whilst still giving maximum support, the chair should support the user in all ways. The goal was to create a contrast from the high-tech adjustable chairs by using a simple and affordable mechanism, which would be seamlessly integrated in the design without using any electronically powered parts.
Result
The LEba chair is a combination of minimalistic aesthetics and adaptable seating. The chair uses a spring-mechanism in the rear legs, which creates a movement when sitting or standing up. LEba chair will give the user maximum back support when sitting straight up and when leaning back. The spring mechanism is designed in such a way the user can sit in his/her desired position.